Welcome to Resurrection Gates and Fences.

As Picket cutters and front picket fence contractors, we have been making woven wire gates and Timber gates or wooden gates, and other garden fencing around Melbourne since 1982, and have developed our automatic gates and steel gate products to meet the increasing demand for gate automation and security. We have also developed a range of modern fencing to meet the increasing contemporary fence needs of modern architecture.
We can design and build your front fence and gate so that the result is sympathetic to your needs and to the style of your home, whether it be a traditional picket fence or contemporary design.
We cut hardwood pickets in our factory which complement the architectural style of your home, and install picket fences around Melbourne. We also sell picket fence materials Australia wide, including posts, plinth and rails, handrails, gate hardware and letterboxes.

Garden Gates Melbourne and Garden fence design
Garden gates and garden fences are usually woven wire or a simple picket fence, kept low to show off the garden. Victorian and Edwardian gardens featured formal geometry with straight paths and hedging. Later Californian Bungalow and Art Deco styles were less formal and often used curving paths and large lawns. Cottage gardens using roses, lavender and ground covers can be best shown off with woven wire fences or low picket fences. For more information on garden fencing, go to our garden gates and garden fences page.
Modern Fence Design: Contemporary fencing.
Contemporary fencing has become popular with the rise of modern domestic architecture. We have developed a range of modern fence and modern gates using timber, steel, masonry and hardboard in order to create contemporary fencing which is sympathetic to the modern ascetic. Go to our Modern Fence page for more information and pictures.

High Privacy fencing can be built with the same quality posts and framing as a picket fence and other feature fences, but with either tongue and groove lining boards or ripple iron. Bluescope Steel make a high tensile ripple iron called Mini-orb which is galvanised and painted with their patented Zincalume and colorbond systems. This cladding is attractive and will keep it's looks for decades.
Fence cladding: colorbond color card for mini-orb or corregated steel fence cladding.

You are welcome to drop in to our Williamstown factory where you will see gates and fences being fabricated.
We install around Melbourne and deliver Australiawide.
How to build a Front Fence:
Go to our article on design, layout, construction, materials, painting and more information on front fence planning and construction from start to finish.
Specials:
Armadale Woven wire gates (classic scroll) and Angelina cast iron capitals
Fence and Gate Installer wanted.
We are looking for an experienced fence and gate installer with their own tools and transport.
Our products are elegantly designed, made by craftsmen and professionally installed. If you have the skills, experience and outlook to fit in with our corporate values of craftsmanship, professionallism and integrity, Please call Dave on 0403 816 660 to discuss, or send your resume to dave@resurrection.com.au
We believe in the quality, beauty and functionality of our products and services, and believe that our company and it's craftsmen should be properly renumerated for our work. This ethos carries through to the renumeration of our installers.
Our timber gates feature the traditional joinery craftsmanship of deep mortise and tenon joints, utilizing modern epoxy glues and treated timber to ensure that your wooden gate will keep it's good looks for many years. These timber gates usually complement a period picket fence. See our wooden gates page for more information.
Our powder coated Woven Wire gates feature traditional scrollwork and woven wire, while using modern materials such as stainless steel scrolls and bronze welds so that they will stay rust-free over the seasons.
We also make up metal frames for picket fence gates which are light and strong, and guaranteed not to sag. We can fit them in Melbourne or freight them to you anywhere in Australia.

Our steel gates are suitable for modern fence design or we can fit wrought iron gates for traditional fencing. They can be light tube steel or solid metal or wrought iron. All gates are galvanised, and most can be powder coated for the best finish available. All of our steel gates, woven wire or timber gates are suitable for gate automation.
Steel gate and woven wire gate colours: Dulux powder coat colour card.
We are Melbourne retailers of BFT gate opening systems from Italy, the home of automatic gate gate openers. These systems are stylish, safe, reliable and easy to use, and carry the full range of options such as sensors, automatic torque cutout, automatic closing, push button or intercom opening, 12 volt battery backup,etc. They plug into a 240 volt outside power point on the house or garage, and run low voltage cable to the auto gate motors. They come with 2 or more remotes, which open from an impressive distance. We can fit these automatic gate openers to either driveway swing gates or sliding gates, steel gates or timber gates. We will fit your automatic gates around Melbourne, or freight auto gates and gate openers to you anywhere in Australia. Go to the automatic gates page or click to our Melbourne Automatic gates website for more information.

We sell brass ring latches, strap hinges, Angelina cast iron post capitals, made up feature posts, and anything else you will need if you wish to have a go yourself.
Please take the time to peruse our products by clicking on the menu boxes at the top of the page, and don't hesitate to e-mail us or ring 0403 816660 if you wish to discuss your needs.
We take pride in our work, and believe our timber gates or wooden gates and woven wire gates as well as our picket fence designs and garden fencing are well suited to Melbourne homes, and judging by interest from interstate, they fit the bill elsewhere. And of course, we can fit automatic gate openers to almost any gate, whether a traditional picket fence or modern fence, or install your automatic gates in one operation.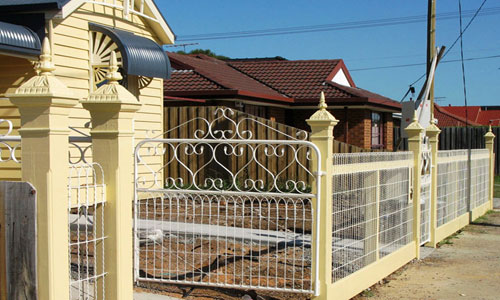 PRODUCT PRICE LIST.
We stock or make all products on the list. We freight gates, wire , gate openers and hardware around Australia,