ARMADALE
Woven Wire Gates (Classic scroll)
Pedestrian 1000mm opening, 1100mm height: $400
Driveway 3000mm opening, 1100mm height: $925
Gates can be single leaf, 1/2-1/2 or 1/3rd-2/3rds.
Delivery Melbourne $44 Delivery around Australia $75 per leaf. Hardware included. See colour chart below.
Go to WOVEN WIRE GATES page click here
Go to our PRODUCT PRICE LIST here

We supply gates and woven wire around Australia, Fence kits around Victoria, and install fences and gates around Melbourne.
FENCE KITS: We can supply posts, rails, plinths, pickets, gates and gate frames, gate motors and gate hardware. We will give a 10% discount if you buy a complete kit.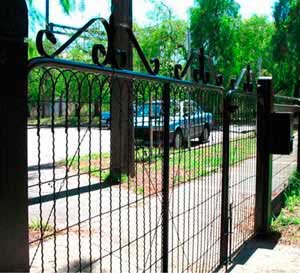 Powder Coating Colour Range (colours may vary from screen to screen)

Silver

Primrose

Federation Red

Heritage Green

White Birch

Mist Green

White

Black
ORDERING WOVEN WIRE AND GATES:
We will make your gates to order and deliver to your door anywhere within Australia.
Gates are powder-coated and come complete with hinges, drop bolts and latch.
Please supply your name, address, delivery address, phone number, e-mail address, gate style, colour, height and gap between posts (our standard gates fit 1 metre and 3 metre gaps).
Please phone, fax or e-mail with your order. We will e-mail you an order with the price and bank details. Please pay 1/2 deposit and confirm details by return e-mail.
Gates and wire take approx. 3 weeks to reach you.

Woven Wire Gate Style
Pedestrian Gate price
1 metre gap
Driveway
Gate price
3 metre gap
Picture

Armadale

$ 440

$ 1000

Brunswick

$ 520

$ 1295

Camberwell

$ 500

$ 1250

Darebin

$ 570

$ 1425

Elsternwick

$ 510

$ 1275

Gardenvale

$ 500

$ 1250
| Elegant Scroll (standard) | |
| --- | --- |
| Classic scroll | |

Delivery per item:
Melbourne $ 44
Sydney, Adelaide, rural Victoria $ 77
Other places in Australia $ 110
Premium high tensileWoven Wire:
Galvanised $ 39 per metre
Powder Coated $ 49 per metre

Oversize gates include a pro-rata surcharge according to their size. Eg, a 3.3 metre gate is 10% extra,etc. Gates are made to order.
Please provide the gap between posts, height, style and colour.
Delivery: 3 weeks from order.
Elegant or Classic design is available. Elegant design will be supplied unless specified.
Powdercoat Colours: White, Black, White Birch, Primrose, Mist Green, Heritage Green, Federation Red, silver or as specified. See the website for colour chart
Terms: 1/2 deposit, net 7 days from delivery. Cheque or direct deposit.
All materials remain the property of Resurrection Gates and Fences until paid for in full.